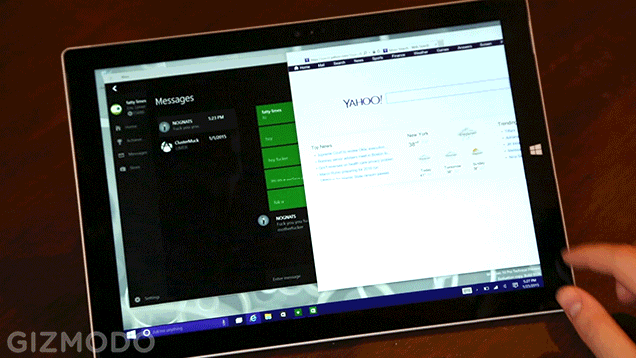 So as many of you may have heard Windows 9 will not be Windows 9. This may sound confusing or weird but Microsoft is not wanting to follow one numerical step behind Apple's OS X. Now because Microsoft isn't naming Windows 9 what will it be called? Well as you have read and heard about it will be called Windows 10! It was originally thought about being called Windows One to follow OneNote and OneDrive but Microsoft is breaking away from the past and because of that Windows 10 was born!
-INFO-
So now that we have Windows 10, you might be asking yourself… whats it going to be like and hows it going to operate? Well my friend I have an answer! Microsoft has a program called "Windows Insider" and what this program does is allows Windows lovers to download and install the technical development version of the current software listed. The program allows you to download and install the normal preview edition as well as the enterprise edition. Now just because its released for testing doesn't mean the program is stable so when using the technical preview you may experience crashes and freezes. The preview is also only recommended for people with high experience in the Windows world and with operating system installs. So now that you have a good enough background with the program and software lets get started!
-BEFORE WE START-
Please note before we start a few points.
You CANNOT boot this off a flash drive. The OS MUST be installed!
The program requires you to make an install disk or flash drive using the iso file provided.
Make a recovery disk before the install to make sure you don't loose anything.
The install asks for a product key so make sure this is on hand during the install. (will be provided)
You will need a Microsoft account to join the program. (LINK)
-PREPPING-
First, You are going to need to log on to the windows insider page and sign in (LINK)
Next, After your signed in we have to prep your PC for the install. Go to the following links and review all the requirements. (LINK)

-DOWNLOAD-
To begin the download first go to the following link (LINK)
Now that your on that page we need to write down your product key and pick what build and version you want. See figure 1
After copying the key and deciding what version and build were using download the iso image. See figure 2
Finally, we have to extract the ISO image to a USB.

Figure 1
" alt="" class="imgLz frmImg " />

Figure 2
" alt="" class="imgLz frmImg " />

Extraction
For this part I used unetbootin to extract the ISO image to a flash drive. The rest of this process will be based off of that software but should still be that same way for other programs.
To start make sure you know where your ISO file is and have the location handy.
After that start unetbootin. It may ask for permission but just say yes.
Next, click "Diskimage."
Now, click the file finder tab or the "…" and import the ISO file. See figure 3.
After you imported the ISO make sure the USB drive has been selected correctly and click "OK" to begin the extract process. This may take a while so go make yourself a sandwich.
Now that you have created the USB drive open the file folder and check the drive to make sure the files are there. If they are their then continue but if they are not then repeat the this step.

Figure 3
" alt="" class="imgLz frmImg " />

-INSTALL-
First, turn off the PC you want to install the OS on and then plug the USB drive in.
Next, Turn the PC on but enter the boot loader. (key varies)
Now that your in your boot loader click the USB drive and continue.
After that just follow the install as if it were a normal OS install.
*AT THIS POINT THE CURRENT OS WILL BE DELETED SO HAVE A BACKUP*
Now your done!

Hope this helps